CRES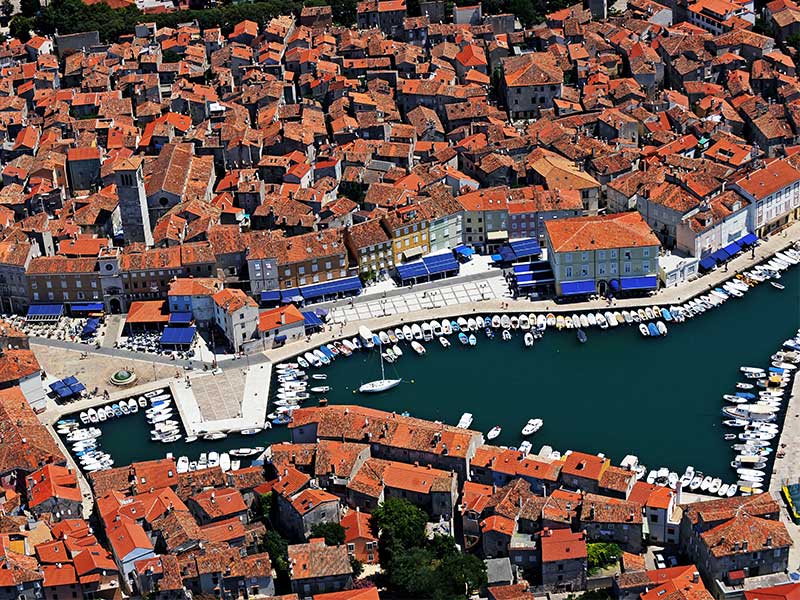 Cres is a town on Cres island, one of the northern islands in the Kvarner Gulf. The town Cres is located in the north-eastern part of a bay which has been a good shelter from storms since ancient times. The best way to feel Cres is to walk through small streets in the town center. With its high and narrow houses attached to each other and maze of streets, the old part of the town is an example of medieval architecture. Main square has been the center of all events both in ancient times and now. In the morning, it turns into green market where you can find fresh fruit, vegetables, olive oil and other products typical for this beautiful island.
The first hotel ''Miramar'' was opened in Cres in June 1845, which proves that Cres is one of the towns with longest tourist tradition in the Adriatic. Modern marina with numerous berths was built on the southern part of the town, in a long sheltered bay. It has 461 wet berths, 70 dry berths, mega yachts up to 50 m in length can be accommodated here. The marina offers numerous possibilities for an active vacation.
The closest beaches are within short walking distance from the town center. Cres is an ideal place for those in search for idyllic calmness, but if you want some excitement there is no reason to worry. You can enjoy many adrenaline sports here as well, such as free climbing, wind surfing, kite surfing or you can rent a bike, go for a swim and explore the rich marine life trying out scuba diving. Some of the most popular places on the island are Lubenice, Martinscica, Beli, Valun and Vrana Lake. You can easily take a boat tour and visit lovely nearby islands such as Susak, Ilovik, Unije and Plavnik.
Flying to Rijeka airport, which is at approx. 50 km distance, is the perfect choice for those travelling to Cres island.