SEGET DONJI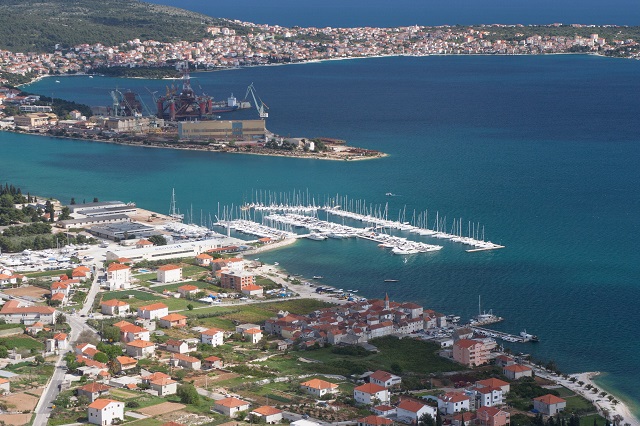 Marina Seget Donji is placed in central Dalmatia, near Trogir at only 7 km distance from the Split airport and 30 km to the highway A1.
Seget is a small and quiet village near the UNESCO museum-town Trogir and it is an interesting tourist destination due to its great offer of activities, restaurants, cafes, natural beauties and mild Mediterranean climate with warm and sunny summer and wet winter days. The average temperature in July is 31°C and 7°in January, the average sea temperature is 25°C in July and 10°C in January. There are approximately 2700 hours of sunshine in central Dalmatia which makes it the most desirable area for a summer vacation. Many well-known cities in this area (Split, Trogir, Sibenik, Omis), smaller villages and islands (Hvar, Brac, Solta, Vis) have a great touristic offer and are worth visiting. You can spend your vacation discovering the history and culture of Dalmatia or enjoy in the crystal clear sea, beautiful bays and beaches.
Seget Donji has a very developed infrastructure which makes it the perfect point for a yachting marina. The yacht base Seget Donji is opened all year round. There are 100 berths on the sea and another 100 on the land, all are equipped with electricity and water. The marina has its own reception, parking area, sanitary arrangements (toilet and shower), café, playground, shop for nautical equipment, sales office, service-facilities and crane.
Routes:
1) Seget Donji – Primosten – Skradin – Murter – Kornati (Piskera) – Kaprije – Maslinica (Solta) – Seget Donji
2) Seget Donji – Milna (Brac) – Stari Grad (Hvar) – Palmizana (Hvar) – Vis – Komiza – Maslinica (Solta) – Seget Donji
3) Seget Donji – Maslinica (island Solta) – Milna (island Brac) – Palmizana – Komiza – Bisevo – Vela Luka (island Korcula) – Zaklopatica (island Lastovo) – Polace (island Mljet) – Dubrovnik – Okuklje (island Mljet) – Korcula (town) – Jelsa (island Hvar) – Lucice (Brac) – Krknjasi – Seget Donji