Central Dalmatia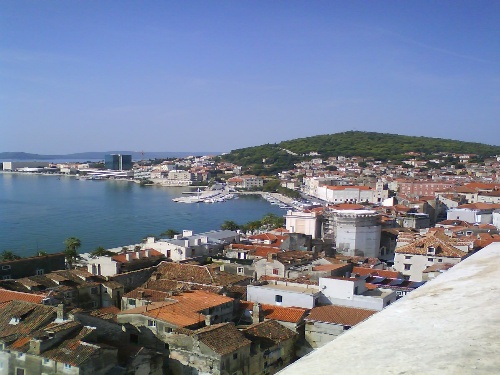 Central Dalmatia is a part of Croatia that stretches from the Rt Ploca (Ploca point) in the northwest (2 km from Rogoznica) down to the Makarska Riviera. It includes the Split-Dalmatia County with its bigger cities (Split, Kastela, Trogir, Omis, Makarska, Hvar, Vis, Sinj, Trilj, Vrgorac, Imotski…) and municipalities (Baska Voda, Bol, Brela, Gradac, Jelsa, Marina, Podstrana, Pucisca, Selca, Solta…). It is a very popular destination, known for its rocky landscape with beautiful crystal clear sea with many islands, hidden bays, beaches, cliffs, groves, sea straits and vast high seas, typically Mediterranean climate with hot and dry summers and cool and rainy winters, for its picturesque small towns, rich in culture and some bigger cities. Central Dalmatia is among other also known for many gastronomic specialties, seafood and meat dishes.
The biggest and the most important city in this region is Split, the second biggest city in the country. It is the administrative, traffic and cultural center of Dalmatia (Diocletian's palace under the protection of UNESCO, Cathedral of St. Duje, National theatre, Archeological Museum, Ethnographical museum, the Ivan Mestrovic Gallery, Perystile, Marjan). Due to its central position it became the connection between the land and the islands. Its airport is the second largest in Croatia and the harbor is between the biggest on the Croatian coast. The excellent position, the good traffic connections, the beautiful landscape and rich history make Central Dalmatia the ideal region for every vacation.

This region is proud of its many natural varieties: there is the mountain chain (Dinara with the mountains Kozjak, Mosor and Biokovo), the continental Dalmatian Zagora and the Mediterranean (coastal towns and islands). You can find wild rapids and peaceful river beds (River Cetina, Zrnovnica, Jadro), shallow waters and open sea, Mediterranean islands with endemic species, lakes (Blue Lake and Red Lake in Imotski) and caves (Vranjaca cave, Blue cave). The Dalmatian coast is a very indented coast with more than a thousand islands and islets and many of them are situated in this region (170 island, islets, rocks and reefs). They became the main attraction of this region and they vary from smaller ones (Solta, Vis and its archipelago, Pakleni islands) for a quiet and relaxed holiday to those bigger ones (Brac, Hvar) with a lot of natural and cultural phenomena but also with a rich entertainment and sport offer. Central Dalmatia is not a big geographical territory, but, rich in natural phenomena it offers many sporting activities. The landscape (the sea, the rivers and mountains, woods and rocks) is ideal for an adrenaline rush. Sport activities include: rafting, climbing, trekking, mountain bike, canoe, paintball, sailing, diving, horse riding… Central Dalmatia is the ideal spot to start your cruising vacation and to experience the Adriatic. You can start from these yacht bases: Rogoznica, Vinisce, Seget Donji, Trogir, Kastela, Split, Baska Voda, Makarska, Rogac (Solta).

Due to its long history and tradition this whole area is rich in cultural centers ideal for sightseeing: Solin, Sinj, Trogir (town center under the protection of UNESCO, Fortress Kamerlengo, Duke's Palace, the Cathedral with the Portal of Master Radovan, palace Cipiko, city loggia, St. Barbara church; Mlinice Pantan…), Hvar (town Hvar - Following the Cross Procession, Fortica fortress, Franciscan monastery, Hvar cathedral, theatre (1612); Jelsa (Square, the Lapidarium), Stari Grad (church of St Roch, the Amateur "Petar Hektorovic" Theatre, church of St Lucy, church of St Nicholas, the church of St Peter and the Domenican Monastery, Pakleni Islands… ), Brac (Brac Summer, Bol, Kopacina Cave…), Vis (rich archipelago; islands: Bisevo (Blue Cave), St. Andrija, Jabuka, Palagruza, rests of antique Issa, military facilities, British fortresses, St Juraj's inlet), Kastela, Makarska, Omis…
The richness of this area offers also the possibility for pilgrim tourism (Sinj, Solin, Vepric), congressional tourism and agritourism (villages in the Dalmatian Zagora and on the islands).