Kvarner & Primorje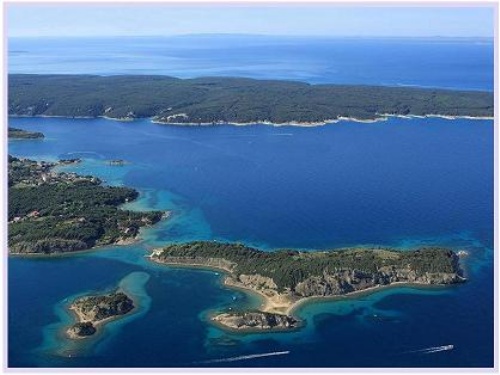 Kvarner and Primorje is a coastal region situated in the northern Adriatic Sea between the Istrian peninsula in the north and the North Dalmatia in the south. It includes the coastal belt with the town of Rijeka (biggest city in Kvarner and Primorje, the administrative center of the region), the touristic Riviera of Crikvenica, Vinodol, Opatija and the islands Cres, Krk, Pag, Rab and Losinj. It is a near holiday region for all Europeans in all seasons with indented coast, picturesque islands and wooded highlands. The Adriatic Sea has infiltrated most deeply into the European continent and it is the area where the Mediterranean and Sub-Mediterranean climate meet with warm summer and mild winter days, the average temperature is 23°C in July and 5,2 °C in January offering all kinds of touristic attractions.
Due to good road connections with all European capitals, Kvarner is easy reachable by car from European countries (Ljubljana 127 km, Milano 490 km, Wien 490 km, Zürich 777 km, Budapest 528 km). Rijeka is the meeting point of important road, railway, maritime and air ways and has an international airport on the island of Krk and a seasonal one on the island of Losinj with regular and low-cost flights and charters. The city of Rijeka was the stage of many important historic events in the past, it has a rich preserved cultural heritage and many museums and palaces to visit (the Torpedo factory, The Corso, Sanctuary of the Madonna of Trsat, Old gate or Roman arch, Rijeka Cathedral, The Croatian National Theatre Ivan Zajc).
This whole region has old tradition in tourism, the first summer resort Villa Angiolina was opened in 1844, the first hotel on the eastern side of the Adriatic was opened in 1844, "Hotel Kvarner", Mali Losinj was early recognized as a health resort, the first wooden beach was opened in Crikvenica in 1888. Many famous and important persons have visited this area, members of the Habsburg dynasty (king Franz Joseph I, his brother Archduke Joseph), Belgian princess Stefani, German emperor William II, Italian king Vittorio Emanuele III, the composer Gustav Mahler, writers Anton Cehov and Henrik Sienkiewicz, English king Eduard VII, who sailed to Rab with his vessel in the bay Kandarola where he entered the sea naked and this moment was soon acknowledged as the beginning of naturism in Rab. The numerous restaurants and taverns base their cuisine on healthy food (natural products, fish and sea-food, island lambs, Cres and Krk sheep cheese, Grobnik goat-milk cheese, smoked ham, venison sausages…).
There are fashionable summer resorts in this region with high-grade accommodation in luxury hotels and villas (Opatija), campsites and beaches with crystal clear sea, ecologically preserved areas with unspoiled nature, variety of cuisine, sport grounds and facilities, cultural, musical and ecological manifestations. The Opatija Riviera is an elegant chain of about ten elegant and glamorous localities (Opatija, Lovran, Medveja, Moscenicka Draga, Icici, Ika, Volosko, Matulji). Opatija is the birth place of Croatian tourism with fashionable villas and hotels. The Crikvenica Riviera is known for its extraordinary beaches, clean sea, pleasant vegetation and clean air in each of these places: Crikvenica, Selce, Jadranovo, Dramalj, Drivenik, Grizane, Bribir. Riviera Novi Vinodolski is the area with exceptional historic heritage and alluring nature attractions. Novi Vinodolski is the city where the oldest Croatian legal document "The Vinodol Codex" was found and in its surrounding there are many Frankopan castles. The places Novi Vinodolski, Povile and Klenovica are characterized by beneficial climate, numerous beaches and promenades, nice nature environment and fresh air from the mountain hinterland.
The island of Rab is known for its indented coast, rich cultural heritage and historical monuments, unique forest and holly oaks, water sources, numerous beaches. Places to visit on Rab: Kampor, Lopar, Supetarska Draga, Barbat, Banjol. The island of Losinj has thousand marvelous plant species, fish shoals, corals, sea shells, algae and sponges and is the ideal place for dolphins watching. Island of Krk is rich in history and with Roman bath mosaics, Early-Croatian churches, Glagolitic monuments, romantic beaches, hidden bays, karst rocks and pebble beaches, many vineyards. The island of Cres provides the best relaxation in the unspoiled nature, picturesque beaches and in the smaller places with dry stone walls, both on the coast and in the hinterland (Cres, Osor, Punta Kriza, Valun, Lubenice, Martinscica).
Kvarner and Primorje has a lot to offer, there are many different sport activities for all sport lovers (diving, sailing, fishing, rafting, canoeing, windsurfing, cycling, parachuting, hang-gliding…), many cultural events: "Ruzica Vinodola" (in August, contemporary festivity, games, fair of hand-made or ecological products); Carnivals (International carnival of Rijeka, International children carnival in Opatija, Carnival of Crikvenica, Summer fest in Novi Vinodolski), "MEA" Festival Opatija, Frogs night Lokve, Rijeka Summer Nights, Summer at the Castle in Rijeka, Kastav Cultural Summer, Liburnia Jazz Festival in Opatija, Rab Fair, Fig days on the island of Krk… various concerts, theatre performances, folk manifestations and fairs; lot of facilities for congress tourism, pilgrim tourism but also good entertainment in night clubs. Kvarner is also called "Gate to the Adriatic Yachting paradise", due to the strong northeastern and southern winds it offers an extraordinary and adventurous sailing experience starting from the bases Krk and Mali Losinj.