Yacht Bases
Spend the breathtaking moments of relaxed cruising along beautiful Adriatic coast with deluxe superior category ship.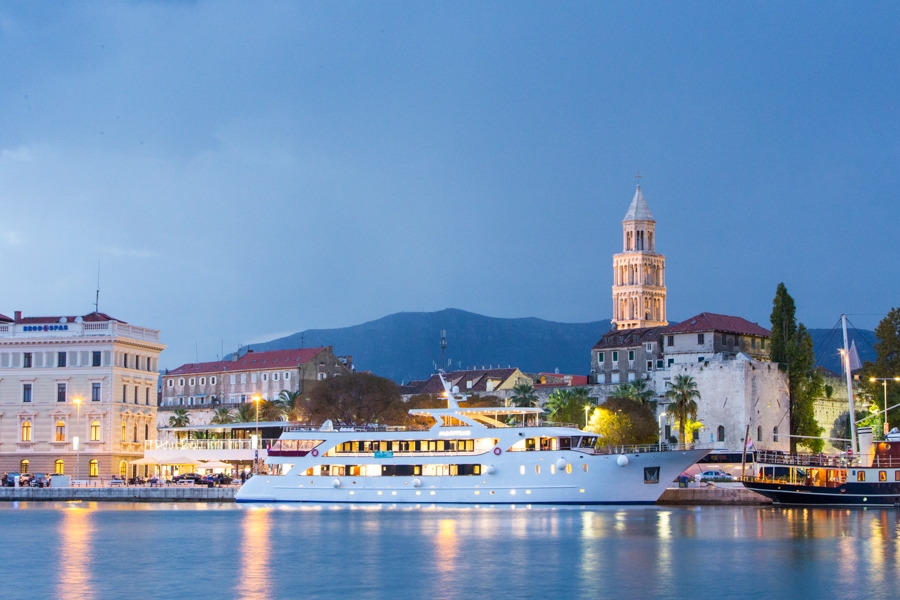 2017
48,5 m
8,6 m
2,7 m
CAT C18 2X500 HP
100 kW + 40 kW + 40 kW
8,7 kts
11,5 kts
19
38+2
Maritimo is a 48,5m long and 8,6m wide ship belonging to deluxe superior category cruises we are offering. Maximum capacity of this stunning vessel is 40 passengers that can be accommodated in 19 cabins situated on two decks. Comfortable cabins are offering intimate setting for all the guests. Each cabin is modern and fully equipped. 10 double cabins and one twin cabin is situated on the main deck, while on the lower deck guests can enjoy 4 double and 4 twin cabins.
In each cabin there are life jackets, desk and tabouret, wardrobe, night stand and small sofa.

All cabins are air conditioned and all of them have safe deposit box as well as LCD TV.
The cabins are 15 - 18 m2. 16 of them have inner communication with the restaurant while the other three cabins are connected to restaurant via deck
.
All bathrooms have toilet, hydro massage shower, wash basin and hair dryer.
The exterior of the ship is as impressive as the interior -
guest can enjoy 250 m2 large sundeck.
For
full enjoyment, there are also comfortable deck-beds for passengers and jacuzzi tub that will give them unforgettable moments of relaxation.

Also, Maritimo has a rear access platform to the sea as well as 2 showers and ladders for easy access to the water.

The vessel is also equipped with fire alarm, emergency lights, video surveillance, tender for 7 passengers and 50 pax life raft, electricity: 220 V, two engines, generators for A/C and lights.



*Vessels on deluxe superior cruises also depart from Opatija and Dubrovnik.
The prices

for cabin charter range from 1400 - 1830 Euro/person/week in a cabin below deck, from 1755 - 2195 Euro/person/week in a cabin on main deck and from 1870 - 2310 Euro/person/week in a cabin on upper main deck, depending on the rental period.
Payment conditions:
200 Euro/person upon reservation and the balance payment latest one month prior to charter start.

Prices in double/twin cabins in deluxe superior category for 7 nights per person include:
arrival transfer from the airport to the harbor and departure transfer from the harbor to the airport depending on route, welcome reception & cocktail, daily buffet breakfast, olive oil and wine tasting on board, 8 or 9 meals – 4 course lunch or dinner as specified in the itinerary, drink with lunch and a liter of water per person daily, tea and coffee all day, captain's dinner with live entertainment, abundance of fruit daily, professional tour manager, guided walking tours of the towns you are visiting, national parks and nature parks entrance fee, visitor's taxes & port fees, luggage handling, complimentary Wi-Fi on board, daily cabin service
Depending on the route & boat other services included in the price:
Additional dinner on Mljet and in Opatija (Farewell), authentic Croatian Village party with dinner on Peljesac, visit to museum and excursions to amenities depending on route, Dubrovnik cable car fee

Extra payments:
Full board supplement (optional): 200 Euro/person/week, min. 10 pax required.

Check in: from 14:00 h onwards Check out: till 09:00 h